Dennis Bates chatting with Lion DG Femi Onabolu and Dr Anna Onabolu about Piston Rings Motorcycle club.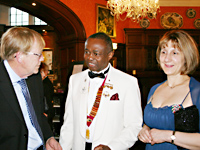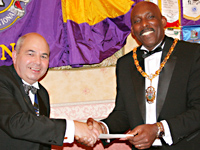 Lion President Dave Presenting the Mayor with our cheque for last year's Mayor appeal. We will have to see you again Mr Mayor with a cheque for your year. (If anyone can explain the reason the shift in the Mayoral year or our Charter Night timing - answers on a postcard to the Chuckle Brothers BBC Bedworth)
Lion Charter Member Steve
looking strangely confused
We are making it up as we go along this year, has anyone noticed?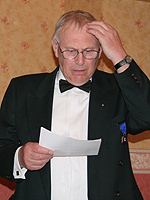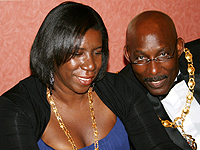 Seems the Mayor & Mayoress have noticed, I may of heard a whisper of "rubbish"
Lion District Governor Femi. Responding the the Toast of Lions Clubs International.& explaining what a joy it is to be a Lion & to be of service to others.
(careful that nearly got serious)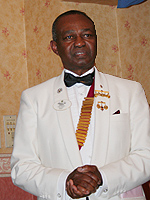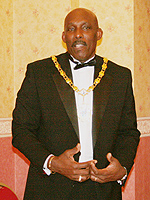 Newly Mayor of Nuneaton & Bedworth Cllr Don Navarro, explaining about his charity for the year, The George Eliot Special Care Baby unit.
Also for Don, this was his first exposure to a Lions Charter Night - lets hope it hasn't scared him off.

Dennis Bates, stalwart of the Piston Ring Motorcycle club is this years winner of the Bedworth Lions Club Super Citizen Award
With over 30 years of dedicated service a worthy winner.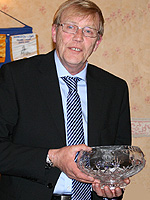 Joy Savage, treasurer of the Piston Rings club looking on with pride. Very well done folks!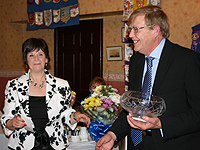 Dr Anna Onabolu reciving her cheque, for the District Gvernors wife's appeal.