Bedworth Lions Club - Latest News & Notices
Share on Facebook

Buckingham Palace - Countess of Wessex Lions Reception
Lion Brian, representing Bedworth Lions Club was amongst the Lion guests at Buckingham Palace on the 28th February 2018.
The Countess of Wessex is Patron to Lions Clubs in the UK. The event was to celebrate 100 years of Lionism. At the event The Countess of Wessex was awarded a Melvyn Jones Fellowship.



AERMACCHI MOTORCYCLE - INFORMATION UPDATE
Thanks to this appeal a gentleman has come forward in July 2017 with vital information in locating these machines; this we hope is the start of recovering them.



On behalf of a friend, we are looking or any information regarding 2 vintage Aermacchi racing motorcycles
One was a racing machine identified by a picture of the cartoon cat Sylvester on the tank.
Has anyone any information whatsoever, such as the bill of sale old photographs did you know the owner during the machines racing lives?
We are actually looking for 2 machines, a 250cc Aermacchi, frame number 141079, a 350cc Aermaccchi frame number 171011.
Two names have also been suggested in this enquiry - Bob Birch from Ross Motors and also Pat Hollick, if any one has any information as to how we can locate these two gentlemen, who may have some information please contact us.
If you can help please e mail Bedworth Lions Cub.
Please copy this request and pass it on.

Facebook Pages - Promoting Bedworth Lions Club on Social Media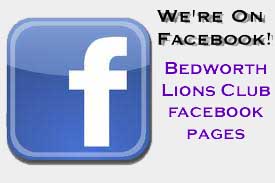 To promote Bedworth Lions Club activities a Facebook account was raised to join in with Bedworth Forum & Bedworth Community pages. Sad to say it is was removed.
Why? Because of the abuse & the self appointed 'changers of our rules'.

We now have a nice fresh Facebook presence, that we hope will be of benefit to all the community.



Melvin Jones Fellows - Lion John Neale MJF & Lion Steve Allen MJF

A Melvin Jones fellowship is the highest Lions honour a club can bestow on a Lions Club member.
In May 2016 Bedworth Lions club awarded Melvin Jones fellowships to it's 2 surviving charter members. Lions Steve & John founder members of Bedworth Lions Club and members of Lions Clubs International since 1977. At the time of presentation meant they had been serving the community of Bedworth & surrounding area for a total of 78 years between them.
Lion John has been President of the club twice, and for many years served as head of the welfare committee, helping to make often difficult decisions as how best to assist local individuals in need.
Lion Steve has been President of the club 3 times & held various posts, latterly the unenviable and often difficult task of being the Club secretary, a position that helps to hold the club together.

Lion Steve Allen receiving his Melvin Jones Fellowship from Lion President Alan Turner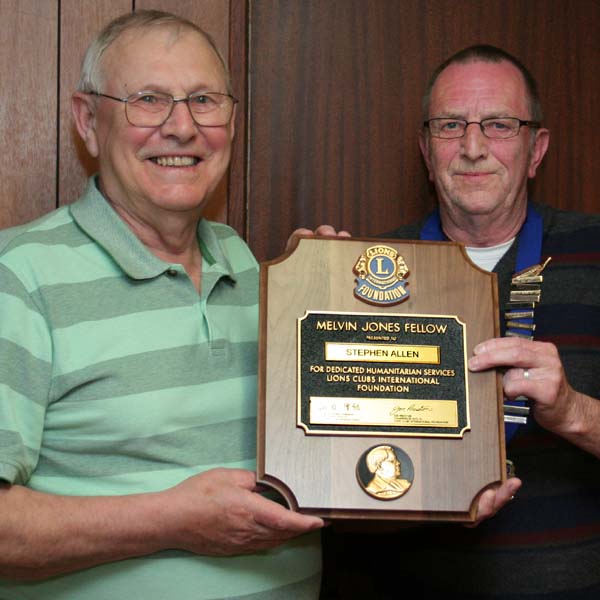 Lion John Neale receiving his Melvin Jones Fellowship from Lion President Alan Turner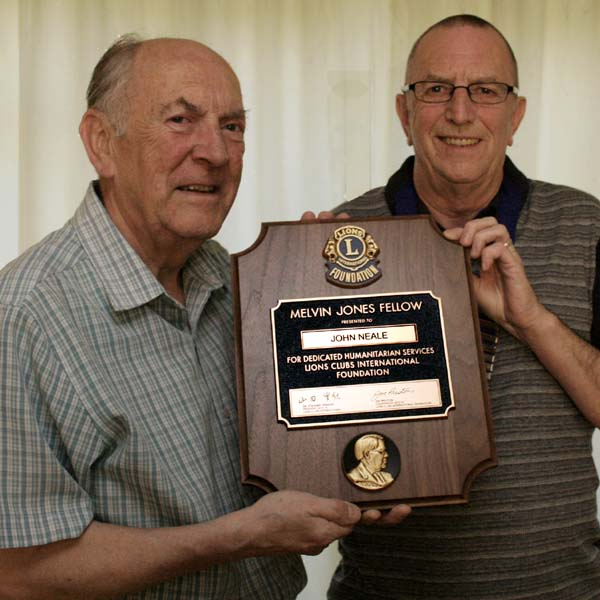 Congratulations to Lion John & Lion Steve on becoming Melvin Jones Fellows.- WELL DONE!

Lion Brian - Lord Brian Leathley - Andrew

Lion Brian who has been a member of Bedworth Lions Club for over 25 years is now
Lord Brian Leathley - Andrew. Still known to us as at Bedworth as Lion Brian.



NEW PHONE CODE - SUCH CONFUSION 76 & 77

In the big number change over 10 years ago Coventry became 024. Many people thought 02476.
O no it isn't, it never was 02476! It is 024 76NN NNNN.
Now there are no longer enough 76 numbers so additionally it has become 024 77NN NNNN.
The problem is compounded by those who dial 0247677.......
The national code for Coventry area is 024 followed by the 'local' dialling prefixes either 76 or 77 then the remaining 6 digits.

MOBILE PHONE HACKING - ARE YOU SAFE?

Remember you only need the correct kit to listen to any targeted mobile phone. It seems that £9.99 to £1000 buys this technology from many a shop. If it can be coded it can be de-coded. Almost any mobile phone can be listened to, you do not need to be a celeb. or in the public eye.
Reportedly systems exist to trick your phone into 'thinking' it is talking to a legitimate cell in order that a hacker listens directly to a conversation.
Now lets see all the mobile phone companies deny this.

GONE GREEN - SOLAR POWER - WATER HARVESTING

To offset some of Bedworth Lions Club carbon footprint, the webmasters office is partially powered by the sun.
Photo voltaic panels have been fitted to power lighting & computer peripherals. This should offset some of the energy used in producing the Lions Club Website

Water is also collected for use when tap water is not needed, floor washing,
loo flushing and other such basics.


Top of Page
Search this site