Bedworth Lions Club - St James Gardening Project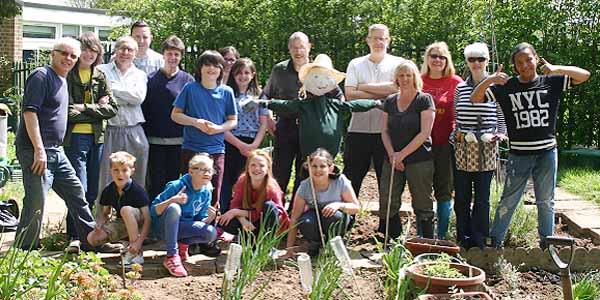 Image taken at the end of the morning and features almost all of the volunteers.
Image by Lion Denise Musson,
On Saturday 14th May 2016, pupils, family members, and staff from St. James C of E Academy were joined by members of Bulkington Garden Club to restore the vegetable garden in the school grounds. There were 22 volunteers, who worked all morning to restore and plant up 3 large vegetable beds, design a new herb garden, clean out the pond, lay paving for a seated area and put together a picnic bench. Everyone was kept going with cake and sausage batches.
The project was led by Denise Musson, who works in the school office, and is also a member of Bedworth Lions. Mrs Musson was able to get a grant of £200 from Bedworth Lions to buy the picnic table and buy some equipment. Members of Bulkington Garden Club donated some plants and seeds, and time in the garden. The Shop in the Shed, Nuneaton Road, Bulkington, donated bags of compost.
Apprentices from Jaguar Land Rover are visiting the school this week to complete the heavier work. Once complete it is hoped that the area will be used as an outside classroom. Children will be involved in caring and harvesting the fruit and vegetables, as well as planning for next year. Working in the garden will give children a chance to get fit. The area can be used in all sorts of lessons, such as science, maths, art and writing. It will provide a nice quiet area for children to sit and eat lunch.
Later in the season the school catering service, Chartwells, will work with the children to teach them about healthy diets, as part of the Food for Life programme, by using produce from the garden. This week there are 2 boys from year 4, who are doing a lunchtime sponsored walk, to raise more funds for the project. Early in the autumn it is hoped that another volunteer morning will be held to work on the wildlife area.
Mrs Sally Andrews (year 3 teacher) "I was so impressed with how the adults were so supportive of the children, helping them do things they had never done before."
Mrs Denise Musson (project lead) "I just want to thank everyone involved in the morning, it was a huge success. I also want to thank our sponsors: Bedworth Lions, Shop in the Shed and Bulkington Garden Club".
Ellie White, (Year 5 pupil) "I have had a brilliant time, I love gardening and I got to use the power tools to help put the picnic table together"
Lauren McGill-Griffiths, (year 5 pupil) "I have had a great morning, I have helped clean the pond out and seen lots of newts and can't wait to go in the garden again".
St James C of E Academy caters for children aged 7 to 11. It is part of the Diocese of Coventry Multi Academy Trust. www.st-james-jun.warwickshire.sch.uk
https://www.facebook.com/St-James-CoE-Academy-173474249682017 for pictures of the garden volunteer day.
Bedworth Lions, was formed in 1979, and meets on the 2nd Monday of the month at Bedworth Ex-Servicemen's club. The club currently, has 16 members and although membership is by invitation, they are always happy to meet new potential members. Bedworth Lions, raise money through a programme of events including the Civic Bonfire and the Santa Sleigh runs. This money is used to help local groups or individuals.
www.facebook.com/NuneatonLions
Bulkington Garden Club meets in the Bulkington Village Centre on 3rd Wednesday of the month. They offer a programme of speakers, organise trips during the summer months and are a great source of friendly advice. http://bulkingtongardeningclub.weebly.com
Shop in the Shed, in at Weston Hill Farm, Nuneaton Road, Bulkington, they sell locally grown or made produce, open daily Wednesday to Sunday.
http://www.shopintheshed.co.uk/shop
Contact details for the garden restoration project
Denise Musson 12-4pm St. James School Tele: 024 76 313 227
Email Musson.d@welearn365.com